Staten Island and Richmond County homeowners trust Centerspan for all of their stairlift needs.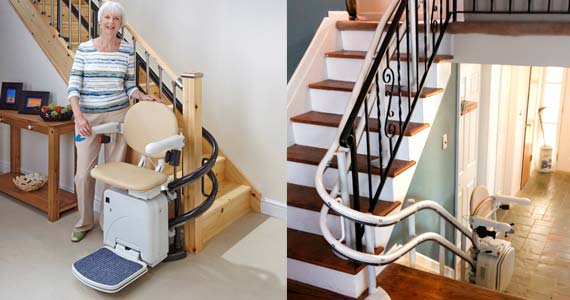 Whether you live in Pleasant Plains, New Dorp, West New Brighton, or anywhere else in Staten Island, Centerspan is just a phone call away, and can professionally install a stairlift in your home to ensure safe access to your upper floors. We offer a FREE evaluation of your home and stairs, so you've got nothing to lose!
If a Staten Island curved stair lift is what you need for your home, we offer several different curved stair lift and curved chair lift options in Staten Island. We sell and professionally install Handicare curved rail stair lifts in Staten Island, which are custom manufactured just for your home's unique stairs. No matter the configuration, Centerspan has the custom curved stair lift or chair lift that you need. These curved rail lifts take about 4 to 6 weeks to manufacture, given they are completely cutomized to your stairs. However, another option to consider regarding a curved chair lift, is our modular curved rail stair lifts. These products are pre-manufactured to fit any stairway configuration, and can be installed in as little as one week! If you want your Staten Island curved rail stair lift installed fast, by the area's most experienced professionals, by a local company that can be there immediately when you have a need, then call Centerspan today!
Contact us here, or call Centerspan today at 631-482-9423 to schedule a FREE evaluation of your needs, and achieve independence and safety with a new stairlift!
Get a Quote!