The Best Stair Lifts & Stairway Chair Lifts in Long Island & NYC!
Centerspan is the leader in Greater New York & Long Island Stair Lifts
Stair Lifts: A Practical Solution for Any type of Accessibility Problem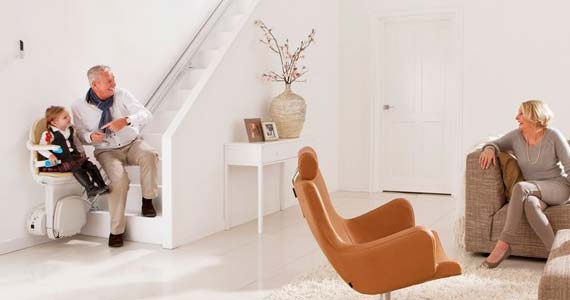 For clarification, several different terminologies apply to stairway mobility devices that feature chairs that travel up and down the stairs. Among these terms are: stair lift or stairlift; chair lift or chairlift; stair chairs, stair glides, or stair elevators. These terms are all used interchangeably to include the same product, probably most well known as a stair lift.
In homes where there are multiple floors, and where there are people who have health issues or an elderly family member, having a good quality stair lift is a great help. If your home has a staircase separating you and your home's upstairs, Centerspan stair lifts give you or a loved one back their independence! Whether you are having difficulty climbing up and down your stairs, or have medical issues hindering your accessibility, there are so many benefits that a chair lift can provide. Stairlifts are an innovative invention that allows aging or disabled individuals the mobility and accessibility that they need, in order to help them go up and down their home's stairs on their own, without assistance from someone lifting or supporting them in climbing up the stairs.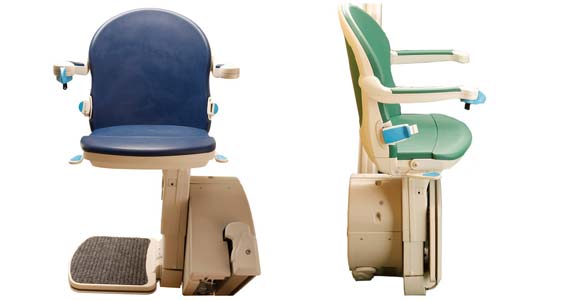 Even if you are still of perfect health and physique, future-proofing your home with this kind of technology is an integral part of keeping you safe and comfortable while living in your own home when you reach your golden years. Inherent difficulties of aging should not be taken for granted. Caretaker services are expensive and impractical when mobility is an issue, due to the advances in accessibility technology such as stair lifts. People are naturally independent, thus, making it a great choice to install a stair lift to preserve and gain back independence, allowing them to continue doing things on their own, even if they have some sort accessibility issue. Furthermore, investing in an affordable chair lift will result in huge financial savings compared to reactive measures after an accident or a fall.
---
Customer Testimonials
Stairlift Reviews & Testimonials from Our Customers
Very personable and informative. Friendly and professional. We appreciate the service of the installers.
E. Henderson
Centerspan customer
Adam and Bob were extremely patient, kind, and helpful in assisting my grandfather and I with using his new wheelchair. I appreciate their help.
J. Smith
Centerspan customer
I was very pleased with the work and the courtesy shown to us.
A. Price
Centerspan customer
---
Centerspan stair lift installation is a breeze with our factory-trained and certified professional technicians experienced in all types of stairways and mobility situations. Our chairlifts will fit any type of stairs. We offer outdoor stair lifts featuring an all-weather durable design, curved rail chair lift for stairs that turn, have landings, or contain pie-shaped steps; and straight rail stairlifts packed with features such as folding seats and footrests when not in use.
Centerspan stair lifts are of superior quality and many amazing chair lift features come as standard. One of the best features that this affordable stair lift offers is an excellent safety system. Centerspan stair lifts come with a constant-pressure control that will stop the chairlift instantly when the control is released. There are also limits that ensures the stairway lift carriage will immediately stop when the chair lift reaches the bottom or top of the stairs, and specialized sensors on the footrest will stop the carriage if any object or blockage is encountered.
Unlike other brands that are limited in the stair lift products they offer, Centerspan provides a variety of chair lifts from the industry's most trusted stair lift manufacturers, such as Handicare stair lifts, Acorn stair lifts, Harmar stair lifts and others. Wherever you are in Long Island, Brooklyn, Manhattan or North Jersey, we will promptly deliver your unit and professionally install it, in some cases within a week. Contact us today at 631-482-9423 and you will be amazed how Centerspan can transform your home into a more functional, safe, and convenient living space with a residential chair lift!
---
Recent Completed Jobs
Stairlift Installs in NYC & Long Island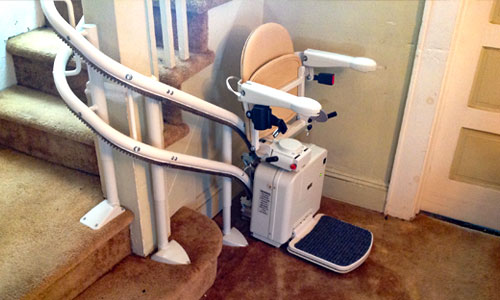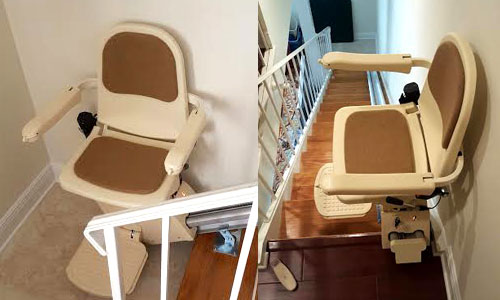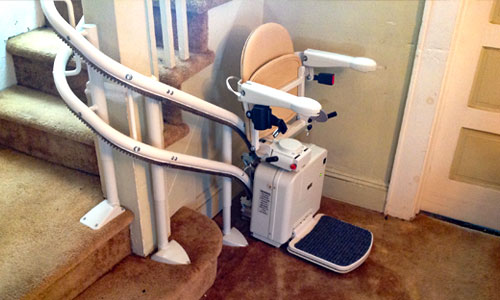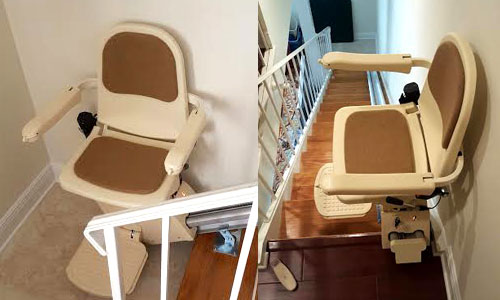 ---
Advantages of Stair Lifts
Freedom and Safety: One of the most important benefits of stair lifts is the excellent mobility and accessibility that they offer. Beyond its purely physical benefits, a stair lift also offers users the ability to gain freedom and safety---the freedom to move around and do things on their own while being safe when moving independently.
Convenience and Maximized Living Space: Before, people who have mobility issues or those who are aging often have to move away from their home, or move into an assisted living facility as the stairs have become too difficult to climb. The inherent costs in such a move are enormous – both financially and emotionally. However, this is no longer a problem! A well-designed residential stair lift solution will give you the advantage of having your living space back! You don't have to sacrifice your home, or have to keep away from your friends, family, relatives, and the familiarity of the home you love.
Accessibility and Compatibility: Stair lift users now have the freedom to move around their home with ease and convenience, and can move freely up and down the stairs whenever they desire. In older homes, stairs can be steeper and narrower, thus offering additional challenges to people who have mobility problems as well as causing worry for their concerned family members and relatives. But a well-designed and high quality stair chair lift offers assurance that users can take the stairs safely every time.
Peace of Mind: Stair lifts also provide family members, users, and loved ones with peace of mind, as they offer several safety features that make it possible for its users to operate the chair lift on their own without getting injured or being susceptible to various risks. Stairlifts provide maximum safety and easy-to-use features to help users in transporting safely and comfortably up and down the stairs without worry.
Stair Lift Features
Versatility: Chair lifts are very versatile, and can be fitted on any type of staircase, whether it's curved, straight, spiral and even outdoors. These home lifts precisely follow the line of the stairs and runs on a track to help the user venture safely up or down the stairs.
Flexible: Our Stairlifts are powered by electricity, but feature a battery backup, so you'll never have to worry about getting stuck in the middle of the stairs when sudden interruption in the power supply occurs. Bedrooms and bathrooms are often located upstairs; however, any interruption in the power supply will not prevent the stair lift user from safely getting there. Reliable stairway access is key to creating a safe and secure home environment.
Easy to Operate: Easy to use hand controls and paddle switches come standard on our stairlifts, making it simple for anyone to operate without hindrance. A wireless remote control and call boxes allow you to send the chair lift automatically to the top or bottom of the stairs with ease. If for instance you are not on the same level as the chair lift, you can instantly access it using these controls, whether the chairlift is situated at the top or at the bottom of the stairs.
Whether you need a stair lift in Long Island's Nassau or Suffolk Counties; anywhere in the five boroughs, or in Northern New Jersey, Centerspan is your local stair lift dealer. Contact us here, or call Centerspan today at 631-482-9423631-482-9423 to schedule a FREE stair lift in-home evaluation, and let us show you how reliable and affordable safe stairway access can be!
Get a Quote!